Style 1 & Style 2


Style 3 & Style 4
Dear Blacksmith,

Thank you for your interest in my custom brooms. Besides making several designs of Early American Brooms on wooden handles, I also weave brooms onto forged handles.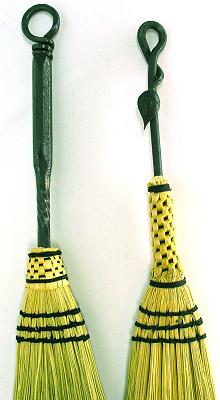 As you know, designing and forging a custom iron broom handle, whether for fireplace sets or hang alone, can be fun and creative. It also requires a lot of work. I believe that once you have gone to all that work, you should have a broom attached which compliments your handle. I can provide you with that broom.

Several years ago some blacksmiths saw my wooden handled brooms and asked if a similar broom could be put on an iron handle. After considerable experimentation, I developed the broom you see to the left, Style 1. Later, I developed a Style 2 and Style 3, then found other broommakers making what is known as a Hawk Tail Broom, Style 4. If you would like to see one of these brooms on your iron handle, please follow the guidelines listed below. Send me your handle(s) by mail or UPS. Your completed broom(s) will be back to you within two weeks. If you have a different style in mind, drop me a note with a sketch outlining your idea. By working together, we might make it a reality.

The Artist-Blacksmith's of North America have a great site you should see at www.abana.org. You may get some good ideas there.

In my broom making career, I have seen some outstanding handles which were made into beautiful brooms. I look forward to working with you.

Happy Forging!


---
What I Need To Firmly attach a broom to your handle...
The handle must have a flattened end with a 1/8" to 1/4" hole drilled through it, as illustrated below, one inch from the end. This flat end prevents the broom from twisting or slipping on the handle.


If you prefer the flat broom, flatten the handle end in the same direction you want the broom flattened. If you want a round broom the flattened direction doesn't matter.
The shortest broom I can usually make (measured from the flattened end of the handle) is 10 inches. The longest is about 24 inches. I find that a 14-16 inch broom 'fits' most of the handles I have seen.
With Style 2 & Style 3, the lower 3-4 inches of the handle is covered. For
Style 4, I like to cover 10-12 inches of the handle.
As you can read in the History section of this site, linen cordage was first used to tie brooms. This linen is a natural fiber, tan in color. I can use this on your broom or I can use a black nylon cord, which I prefer, as its color 'goes' so well with the color of the forged iron. The choice is yours - just note your preference on the Order Form on this site (just click on it below) or let me know.
---
While I prefer a flat, square broom, cut, tied with black cord, the choice is yours. My goal is to provide a quality, attractive and functional broom which compliments your handle and set.



The price is $80.00 for each broom.
Add $20.00 Shipping and Handling for each broom.

Click Here for an

ORDER FORM

you can print out and use.